Paul Friedrich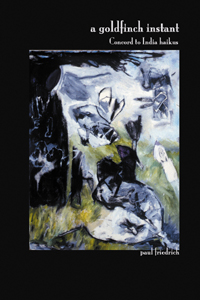 Paul Friedrich's a goldfinch instant is in the spirit of Basho – but it breathes with Henry David Thoreau as well. Haikus "from Concord to India" are embedded in a prose poem that will be of particular interest to readers familiar with Friedrich's poetry as well as his work in anthropology and linguistics – and that will be a delight for readers who encounter Friedrich here for the first time. It begins when "a goldfinch instant / on the top of a young fir / hit by first sunlight" triggers a memory of an afternoon with fourteen year old Nicky, one of Friedrich's children to whom the collection is dedicated. From "the North Carolina of Charles Frazier's Cold Mountain to Han Shan in distant China" to the New England of Friedrich's childhood, to Mexico, to India, to "the outskirts of Chicago" with a nephew and "his bird expert father… totally serious about red-tailed hawks and owls in the snowy fields with the cold March wind blowing… totally focused because it's fun to be out there with moles and voles under the dead marsh grass and harriers cooperating with Athena's birds coursing through the twilight… and because yet farther than those frozen wastes are other skies and other hawks like the three Thoreau describes on one page that come to us not as Hemingway's 'moments of truth' …but as transitory experiences you cling to with bare hands over the abyss when the insects and then the plastics take over and miracles like Nicky will have seen the dawn of their death." "Totally serious, totally focused, because it's fun to be out there" beautifully describes the spirit of Friedrich's work — not clinging in desperation over an abyss but clinging to extraordinary truth in transitory moments — and finding the play of poetry in them.
for a larger image of the cover…
cover art: "Bees," by Dale Pesmen (1990)
isbn 9780981989891
$15.00
---
From the beginning, Paul Friedrich's poems set the tone for a magic, yet Cartesian journey from
Early Life
to the "pink radiance" of the
Finale
, which could also be a new start, the moment when love, colors, "words come back" and the "mind's eye" is stained again with "polychrome windows."
The poet wanders through words, places, arts and through his own feelings keeping an original balance between inspiration and logic.
Sons, daughters, lovers, father, wives, oceans & mountains, seasons and daily facts of life, real landscapes (from Virginia to Chicago, from Paris to Mexico or to India), they all share the inner landscape of the author. There is in this collection an amazing sense of unity in expressing the beauty of our world, a sense of togetherness.
–Stella Vinitchi Radulescu, poet