Jamie Stern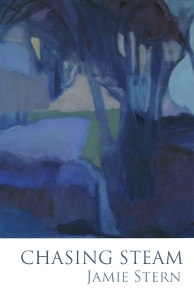 In Chasing Steam, Jamie Stern traces the life of her grandmother, Esther, from war-torn Bialystok, Poland to Paterson, New Jersey.  From Esther's birth in 1906 to her first job in America selling oranges. From the Paterson opera coach with a school of speech and drama to the poetry of Wordsworth, Longfellow and Shakespeare. Sustaining loves carried through her long and determined life, with a leather purse holding dinner rolls and a deck of cards hiding 52 twenty dollar bills. Jamie Stern conjures Esther for the sheer pleasure of her company and chases her through a life, always hard, always hidden, getting as close as she could: Since I was taller than Esther on her knees,/ I bent over until our shoulders touched./ Until our eyes were level./  Until her breath stopped at my cheek.
for a larger image of the cover…
The cover is a painting by Jon Connolly. The cover design is by Nan Lombardi. Thanks to both!
"In Jamie Stern's Chasing Steam, an agile mind is at work, witnessing. Jamie Stern makes her poems with sharp intelligence, a fearless tenderness, and matchless candor. The poems are full of events that shine and echo. In these family and history stories, subjects spring out as new, concrete and conceptual.  Read her poems for pleasure, and find there the wit and tunefulness of her language, investigating our human world."   
-Marie Ponsot, poet, Chancellor of the Academy of American Poets
"In these poems, Jamie Stern rises beyond the title's steam to capture the elusive vapor of memory where an unforgettable family emerges, all joyous flesh, heartbroken bone and iron in its will. Her portraits shape and lift like clouds, like childhood itself, at once jocular and grave. Her views are intimate both through revealing gesture and the lifetimes of habitude noticed therein, each face lingering in the doorway, like people passing through the rooms of a once-loved house."        
-Jackson Taylor, poet & novelist
isbn 9780944048313
$15.00