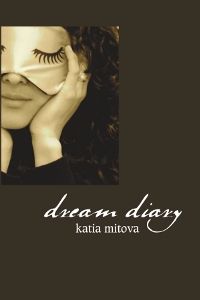 A mysterious Emperor observes that while dreaming and living curve toward each other, dreams tend to curve away from one another. Dream Diary is a poetic exploration of this claim. There is a dog called Euclid in the non-Euclidean world of the book. There is a young woman, Zena, with Blake's "fearful symmetry" tattooed on one arm and a six-legged octopus on the other. There is a flight over Patagonia, to the end of the world, on swan's wings. Wild strawberries play the role of the Tree of Knowledge. Pairs of semi-opposites starting with the letter "B" appear like coded messages throughout the book but may mean just Bed & Breakfast or Brain & Belly or Blink & Blank. "The eyelids of darkness quiver with colors, foresee a thousand and one paths. All can be taken tonight…" reads the last poem in this collection. Following the thousand paths of Dream Diary is a feast for the imagination.
for a larger image of the cover…
The cover image is a photo by Katia Mitova. The cover design is by Regina Schroeder. Thanks to both!
isbn 9780944048528
$15.00
Richard Russo interviews Katia Mitova in DreamTime (a publication of the Association for the Study of Dreams) 30.2 Spring 2013. [pdf will open in new window/tab]