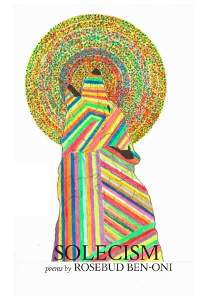 "Think the pinched aren't polysyllabic?" You've never heard from Mexico in this register. Nor moved through the East Village and Jerusalem, Syria and Lebanon, with a guide who spies "what grows in broken concrete." Ben-Oni takes us along borderlands and scenes we rarely hear of in the news – to the very fringes of places like Sal Si Puedes ("Leave if you can") with its sandals, jellyfish, beer bottles and narcotic wires, then into the marketplaces of melons and catcalls, with the tongue of a Gypsy "incapable of candor."  This is exploration and revelation via the road less traveled. A slice of poem glimpses girls howling against silence slammed against them, laughing through weeds overtaking ranches, and the child-guide, a Jewish-Mexican who doesn't fit, is also a sparrow walking her wings through the ruins, choosing mosquitoes over worms, baring all to possibly "disappear / into overflowing ashtrays and / stryofoam pyramids / in ten-peso shops."  Where she finally lands pales beside how she sees the world through her tongue.  The journey is all. As always, we too think we know things, and we do, but it is Ben-Oni's insider-outsider grasp that dons another legitimacy, one that does not go on validation, one that can intensify our own: simply listening is enough to propel her, and us, to "Know those incurable Depths." And if you find yourself "unborn again… twitching in sin" or 'tasting toadstools' and singing the 'discordant dark', then you too may revel in that forbidden space of SOLECISM, reaping poetry from "what remains of the unruly wilds."
–Amy King, Author of I Want to Make You Safe and I'm the Man Who Loves You
for a larger image of the cover…
The cover painting is by Rogelio "El Indio" Cisneros. The cover design is by Regina Schroeder. Thanks to both!
Rosebud Ben-Oni wisely may not "dare the river," yet she dares each of us to immerse ourselves in the often splintered realities and myriad, far-reaching territories of her particular journey while including the journeys of others.  Those who have been "othered" their whole lives usually possess this graciousness.  Ben-Oni dares us to wade in the currents of wrenching observations and hard-won epiphanies.  This poet understands that even—perhaps especially—what isn't beautiful is precious. These brazen, keen explorations are lit by intriguing desires that mirror and unearth our own, fueled by a deft imagination and wielding of language that rings deeply true.  The world needs these tough angel anthems.
–Kamilah Aisha Moon, Author of She Has A Name 
Rosebud Ben-Oni's debut collection SOLECISM derives its strength from its understanding that borders are merely lines meant for crossing. In this way, both she and her collection's boldness burns through, bending us close, asking us to step over and listen to stories that for so long have been told "by mouth only,/…[ stories not held] in such /Rigid restraints." This collection reminds us there is no such thing as the voiceless— only the ignored… There is a great fierceness in these poems that is balanced with just the right amount of tenderness. I look forward to a world filled with more Rosebud Ben-Oni poems.
–Andre Yang, Co-Founder of  Hmong American Writers Circle and Co-Editor of How Do I Begin
SOLECISM is the testimony of one who has "listened well into the night," and is compelled to relate, with discordant poignancy, all that she has heard there. The poems in SOLECISM have significant concerns: Cultural, political, personal, and religious, but it is the writing of powerful poems, not protest signs, that is Ben-Oni's task. Her poetry is aware of the world's urgencies, and, troubled, engages them in a barbed dream-language of vengeful longing, a language of razor blades and fish hooks, locusts and last-chance border towns, a language as fragmented as our world, achieving a startled and startling wholeness from the vivid pieces.
–Stephan Delbos, Author of Chetty's Lullaby, and Editor of B O D Y Literary Journal
Between wordplay and wisdom, between lip and tongue — Rosebud Ben-Oni's SOLECISM  is "full of bloodless faces and fists"—"Senoritas kissing between lights"; and sparrows live here. Ben-Oni is not afraid to say she is "sleepwalking through your Op-Eds"—not afraid to say—any—thing. Her words are "rawboned" and "razed"—and living—tongues of multi-geographies: Tijuana, Golan, Ramallah— Aleppo, Beiruti, Nablus, Jerusalem—"Corona, Elmhurst, Last Stop Flushing". For moments, Ben-Oni makes me believe in peace—many countries moving—in one body—"A Jew who writes on the Sabbath"—between the geographies of Shabbat—and "the undergrowth of a wadi." At times, Ben-Oni's work is reminiscent of the wordplay, tone and tenor of Harryette Mullen, yet Ben-Oni clearly owns her sole voice, her own edgy distinction and strong sense of sound. Rosebud Ben-Oni carries language like "the mistress of fragmentation"—part-every-thing-and-every-country—the many languages of giving, "Guess how many lives I have," she invites. Many moments, in her work, though, would have me believe the world is unpeaceable, "careful / in conferences by ethnicities you half/ belong to. Nothing sings how there is never unity for you."—"Five pairs of strings, now you tune your broken oud, away from the false bird that cares not what it burns." In this body of work, Ben-Oni is the dark bird— that sparrow, singing.
–Marian Haddad, Author of Somewhere Between Mexico and a River Called Home and Wildflower. Stone.
In Rosebud Ben-Oni's debut collection of poems Solecism, language, identity, sexuality, race, and culture coalesce, but not until after a succession of clashes from which emerges what Yeats might call "a terrible beauty" being born.  "I am the mistress of fragmentation", Ben-Oni writes in the concluding poem of a suite aboutSal Si Puedes.  Indeed, for Ben-Oni draws on her diverse backgrounds and experiences, though diverse hardly does her story justice.  Her poems confront the darker side of multi-culturalism, the vertiginous disorientation of being neither this nor that, neither here nor there, essentially being exiled in her own homelands.  What often anchors Ben-Oni is her examination of language, but her poems, thankfully, are not of the Language Poetry school; she "won't speak in tongues."  But it is language that swirls at the core of her identity, and by extension her self, and by further extension her soul.  Ultimately, it's Ben-Oni's lyricism and vulnerability that give her poems their grace and power, and we are all the better because of them.
–Alexander Long, Author of Still Life (White Pine Press Poetry Prize), Vigil and Light Here, Light There
isbn 9780944048504
$15.00
order the book directly from the author here