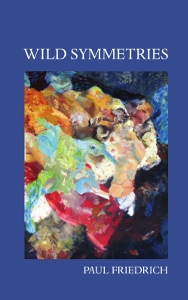 Paul Friedrich's haiku dwell on the "split second hush / between crickets' chirp," mindful of the silence, mindful that music in language is silence as well as sound, turning on the split between. Readers who know his haibun will sense in Wild Symmetries a continuing distillation of the story present there, a life lived deeply. In the space between, silence cannot contain itself. It explodes in the extraordinary moments these poems call to mind by way of their unwavering attention to the ordinary – "seen from our front porch / a million lights vied / to outdo the moon." Friedrich has long focused on the power of imagination in language that is "inherently, pervasively, and powerfully poetic," and that focus finds its clearest expression in gems like those collected here, most remarkable for their simple capacity to surprise at every turn.
for a larger image of the cover…
The cover image is a painting by Dale Pesmen. The cover design is by Regina Schroeder. Thanks to both!
isbn 9780944048535
$15.00